Quarterly Workshops
2022 FALL WORKSHOP
Wednesday, 30 November 2022 | 9:00 - 11:00am | Virtual, via Zoom
Schedule:
9:00- 9:10 Opening remarks 
9:10- 9:30 Elisa Baena, Chair of the Language Proficiency committee, and Jill Sieben-Schneider, Director of AccessibleNU
9:30 -10:10 Jami Fisher, Senior Lecturer, ASL Program Director, Department of Linguistics, University of Pennsylvania - "Building Broad Linguistic and Cultural Competencies with American Sign Language"
10:10-10:45 Q&A
10:45-11:00 Closing Remarks and announcements
2022 WINTER WORKSHOP
Wednesday, 9 March 2022 | 9:30 - 11:30am | Virtual, via Zoom
Schedule:
9:30-9:45 Introduction, MOC Co-chairs
                    Sarah Klaper, JD, University Ombudsperson
9:45-10:30 Asha Nagaraj, What Can a Diversity Committee Do in a Department? -Experience of the Spanish                                     and Portuguese Department
10:30–10:40 Break
10:40–11:00 Hong Jiang, Designing Student Assessments, from ACTFL 2021 Summer Learning Series
11:00–11:20 Yanting Li, Identity, Diversity, Justice and Action in Language Classrooms- Examples of Activities                                    from ACTFL 2021 Spring Series
11:20–11:30 Final Remarks
2021 WINTER WORKSHOP
Friday, 19 March 2021 | 9:30 - 11:30am | Virtual, via Zoom
Schedule:
9:30-9:40 Introduction, Oya Topcuoglu
9:40 - 9:55 Chin-Hung Chang, ACTFL Writing Proficiency Test Rater Certification in Chinese
9:55 – 10:05 Fatima Khan, Remote Professional Development in Arabic Dialects, CLI Summer Funding 2020 (7:40 minutes)
10:05 – 10:20 Fadia Antabli, International Partnering Project for the Arabic Language classroom of Northwestern University, La Sorbonne-Nouvelle and l'Université Paris 3, AY 20-21
10:20-10:45 Patricia Scarampi, An Innovative Flipped Grammar Learning Experience- 2019 CLI Teaching Award Presentation. (20 minutes + time for questions)
10:45-11:00+ Matt Taylor and Cecile Anne Sison, Tech hang out time. Drop-in space to talk informally about ideas and apps for Spring Quarter teaching.
2020 FALL WORKSHOP follow up practice session
Ramp-Up to Winter Quarter 2021 Tech Workshop 
Tuesday, 5 January 2021 | 9:30 - 11am | Virtual, via Zoom
Schedule:
9:30-9:40am Meet in Zoom room above for introduction and assigning breakout rooms
9:40-10:15am Session I Zoom room breakout
10:15-10:25am Break and Reconvening in Main Zoom Room above
10:25-11:00am Session II Zoom room breakout
---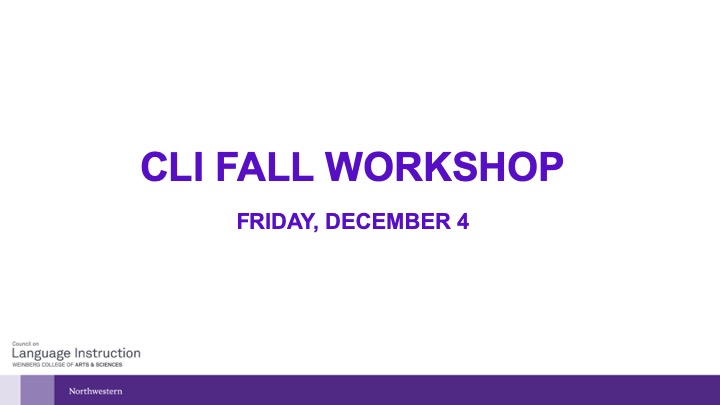 2020 FALL WORKSHOP
Fatima Khan "Panopto: Making Videos and More" - All Levels
Noriko Taira Yasohama, "Increasing efficiency and sense of community: Ideas with 'Hypothes.is' and Breakout Rooms" – Beginning Level
John Paluch, "Culture, Grammar and Vocabulary with Zoom Backgrounds" - All Levels
Jingjing Ji, "All-in-one! Multi-ways on One Platform to Facilitate Online Language Learning: Nearpod"- Beginning Level
Yanting Li, "Google Jamboard and Google Slides for Breakout Room Activities" – Intermediate Level
Workshop Recording
A recording of the workshop is available via Panopto. A Northwestern NetID and password are required.
Back to top